As social distancing measures continue and lockdowns remain an ever-present possibility due to the COVID-19 health crisis, scientists have urged for better mental health measures to be implemented to assist older individuals who may be more vulnerable to social isolation.
In a letter to the editor published in the Journal of the American Medical Directors Association in April1, Australian scientists from Macquarie University and the University of Sydney called on government and aged care providers to improve digital engagement and literacy among older demographics.
By highlighting the challenges ahead and providing some ideas for tackling these important issues, the authors hope to spur change and bring about better physical and mental health outcomes for older individuals who are affected by the ongoing pandemic.
Triggering a social recession
Dr Joyce Siette, Research Fellow at the Australian Institute of Health Innovation at Macquarie University was lead author of the letter. She spoke to Lab Down Under about the letter's aim to shed light on an issue that had largely been overlooked as COVID-19 spread around the world.
"Most of the discussions around COVID-19 were really focused on the lives that could be lost and the economic recession — and rightly so — but I thought that the pandemic would trigger something else, a social recession," she said.
A social recession occurs when social bonds unravel among those in the community, a phenomenon which can lead to a series of harmful effects on people's mood, their health and ability to work and learn.
These effects were even more pronounced among older adults and those in aged care facilities who were already isolated to start with, Dr Siette said.
While there had been no research so far on the mental and physical health effects of social distancing measures on older adults during the COVID-19 pandemic, studies had been conducted in Hong Kong in the aftermath of the SARS outbreak that commenced there in 2003.
These papers could be used to learn lessons about how to handle elderly mental health both during the heaviest COVID-19 lockdown measures where non-essential travel was banned, as well as afterwards as any longer term effects emerge, Dr Siette said.
Promising technological trends
One key area covered by the letter was the importance of developing and adopting technology-based solutions to help keep the elderly connected.
How the older demographic actually uses technology varies from country to country. In the USA, a survey from the Pew Research Center2 found that one third of Americans aged 65 years or older never used the internet, with just under half saying they had no home broadband.
On the other hand, older individuals in Australia seem to be further ahead technologically, with a survey of over 3,000 individuals conducted by the Australian Communications and Media Authority3 finding that 79 per cent of those older than 65 had used the internet at some point in their lives.
"The idea is that older Australian are really embracing the technology mostly for social interaction. So they want to reduce their feelings of social isolation, and technology is able to support their involvement in the lives of their family and friends."
Further research conducted by the Global Center for Modern Aging4 found that 21 per cent (or more than one in five) older adults had actually used a new technology for the first time since the COVID-19 pandemic began.
"It's good to see that older adults are actually adopting the technology and are quite receptive to it," Dr Siette said.
Telemedicine (or consulting with a doctor or other medical professional over the phone or video chat) is also on the rise, with around 16.2 million telehealth consultations supplied, according to a statistics from the Medicare Benefits Scheme released in April5.
Innovation in the aged care sector
Aged care facilities were thrust into these challenging times by having to look after residents' healthcare needs, balance social needs with the risk of virus transmission, bring in new digital tools for the residents to maintain contact with loved ones and medical staff, and deal with changing regulations, Dr Siette told Lab Down Under.
"I think that the past couple of months have really have shown how innovative aged care providers have been, as well as what communities and families can do to support residents," she said.
Dr Siette suggested that a central resource should be created of all the novel ways that aged care providers and communities had encouraged greater social cohesion despite the additional restrictions so that others could learn from and implement these tactics as well.
"There are so many things that they can do. It's just we need to be able to coordinate that and be able to share it. If you look on the government sites, you don't really have that information there. You have to go searching to see what has been done. It's really word of mouth. So I think having some source that had collated all this information would be really useful."
These methods could also be used to assist older adults in the future, even after the pandemic subsides, Dr Siette said.
"What we are learning now and how we can involve people to become more socially interactive and engaged can be kept on later. It doesn't mean it's a one-off response to dealing with the pandemic, but it can definitely be included in routine processes in the future.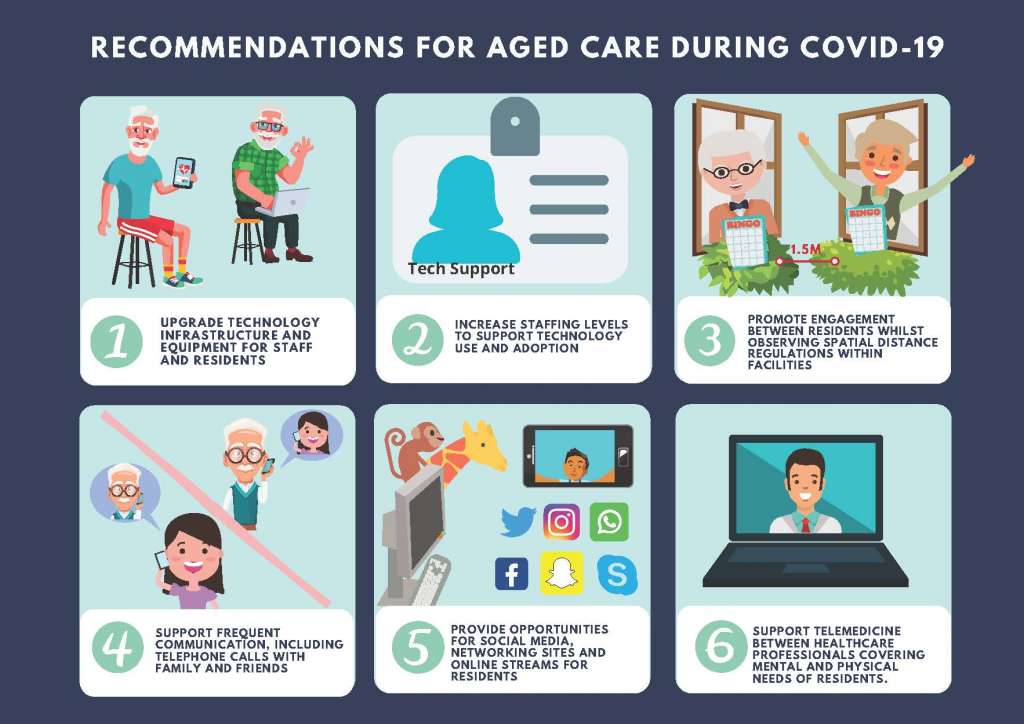 Figure 1: Recommendations for aged care during COVID-19. Picture by Dr Siette. Used with permission.
Senior support from the government
As for what the Australian Federal and State Governments could do, Dr Siette said that improving digital literacy among older adults was an important focus.
In June 2016, the Liberal government promised to commit $50 million to improve the digital confidence and skills of older Australians if elected in that year's double dissolution Federal election. This funding was confirmed in September 2017 with $16.9 million provided to the Office of the eSafety Commissioner to create what ultimately became the Be Connected portal for seniors6.
Other steps, such as offering tablets to older Australians so they could partake in video calls with family and friends and telehealth consultations with their doctors was also essential, Dr Siette said.
"In our current climate, offering technology such as tablets to support video calls would be useful but you do need someone to facilitate this whether that's an aged care worker, family or a volunteer."
An additional $10 million supplied by the Federal Government to the Community Visitors Scheme to support older Australians experiencing isolation was a good start to equip volunteers with the necessary skills in this area, Dr Siette told Lab Down Under.
"I think it's a really good option because the Community Visitors Scheme arranges volunteer visits to older people to provide friendship and companionship. It's only available for anyone receiving a government subsidised residential aged care or home care package – so those who are probably a bit more isolated than others."
More work to be done
Despite some promising progress, further research is required to see how the elderly cope with social distancing and the ongoing pandemic.
Dr Siette told Lab Down Under that she was conducting an ongoing survey on the short and long-term impacts of COVID-19 on older adults living in NSW in terms of quality of life, social networks, access to healthcare and technology use.
"We're trying to collect information on older adults, anybody above the age of 55, and how they felt during COVID, sometime after and then about six months later."
There was also a need for other research to examine mental health issues such as anxiety, depression and suicide, she said.
As for further initiatives, additional funding into telemedicine was required as was support for workers in the aged care sector.
"We should consider supporting our front-line health workers, our aged care workers and providers. We need to ensure they have the support they need to create and implement contingency plans for their older adults and their residents. So we need to be able to support them in order to support who they provide care for," Dr Siette said.
Author's note: If you enjoyed this article, you can follow Lab Down Under on Facebook and LinkedIn or support me on Patreon. I also have my own personal Twitter account where I'll be sharing my latest stories and any other items of interest. Finally, you can subscribe here to get my weekly blogs in your inbox.
---
1 Siette J, Wuthrich V, Low L. Social preparedness in response to spatial distancing measures for aged care during COVID-19. Journal of the American Medical Directors Association, 20 April 2020.
2 Anderson A, Perrin A. Tech Adoption Climbs Among Older Adults. Pew Research Centre, May 2017.
3 Digital Lives of Older Australians. Australian Communications and Media Authority, July 2016.
4 Portal to help older people stay healthy, connected and active. Global Centre for Modern Aging, May 2020.
5 Telehealth and coronavirus: Medicare Benefits Schedule (MBS) activity in Australia. April 2020.
6 Be Connected, eSafety Commissioner and the Department of Social Services.