A state-of-the-art radio telescope located in Western Australia has broken records, creating a map of vast swathes of the southern sky containing around three million galaxies in 300 hours, dramatically shortening the years of time it normally takes to take snapshots of the heavens above.
Called the Australian Square Kilometre Array Pathfinder (ASKAP), the telescope is operated by Australia's national science agency, the Commonwealth Scientific and Industrial Research Organisation (CSIRO), and conducted a survey of 83 per cent of the skies above WA.
The first tranche of the Rapid ASKAP Continuum Survey (RACS) was published in Publications of the Astronomical Society of Australia in late November1, containing over 900 super high definition images of the sky. Those images contain millions of distant galaxies, including around one million that had never been previously observed.
More data than Australia's internet traffic
Because ASKAP uses special receivers developed by the CSIRO featuring "phased array feed technology", the telescope generates greater amounts of data at a faster rate than Australia's entire internet traffic, said CSIRO chief executive Dr Larry Marshall.
"ASKAP is applying the very latest in science and technology to age-old questions about the mysteries of the Universe and equipping astronomers around the world with new breakthroughs to solve their challenges."
The ASKAP array uses 36 radio antennas located at CSIRO's Murchison Radio-astronomy Observatory on the traditional lands of the Wajarri Yamaji people about 800 km north of Perth. By linking these dishes together with fibre optic cables, the telescope can take extremely high resolution images of the night sky.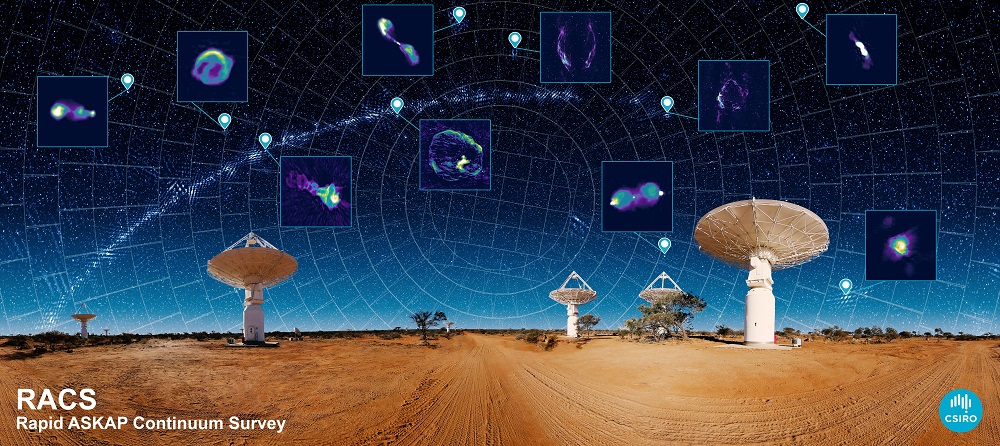 Image: Graphic of data compiled from the Rapid ASKAP Continuum Survey. Used with permission.
The data is processed using custom hardware onsite before being sent to the Pawsey Supercomputing Centre in Perth.
"In a time when we have access to more data than ever before, ASKAP and the supercomputers that support it are delivering unparalleled insights and wielding the tools that will underpin our data-driven future to make life better for everybody," Dr Marshall said.
Arrays in arrays for high res images
ASKAP's key feature is its wide field of view generated by phased array feed (PAF) receivers which were developed by scientists at the CSIRO. A PAF is an array of 188 radio sensors arranged on a circular plate one metre in diameter which is placed at the centre of each of the 36 radio antennas.
"The signals from each sensor are transmitted on optic fibre to the central building, digitised and then processed in digital electronic systems specially built for ASKAP. So the central building receives 36 bundles of signals, one from each antenna, and each bundle has 188 signals," lead author and CSIRO astronomer Dr David McConnell told Lab Down Under.
"Each signal is sampled (digitised) at a rate of either 640 or 768 million times per second. Each sample is a number that measures the strength of the signal at some instant in time. This means that the digital electronics receives 36 x 188 x 640 million samples (number) per second. That is why ASKAP generates so much data."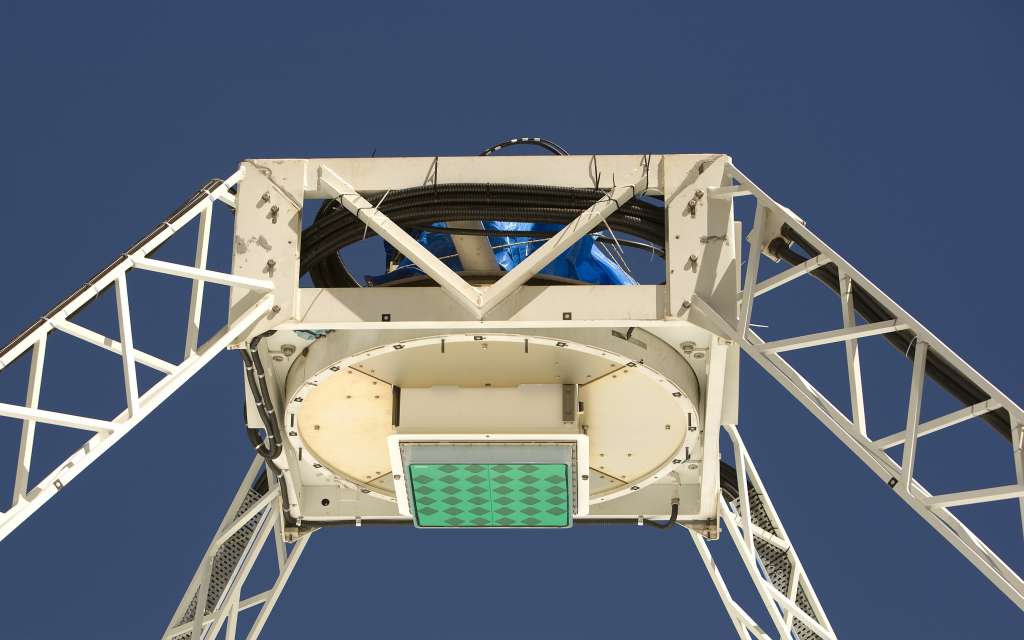 Image: CSIRO's prototype phased array feed in position on an antenna for testing. Picture by David McClenaghan. Used under the Creative Commons Attribution 3.0 Unported license
This system scanned 83 per cent of the entire sky and generated around 13.5 exabytes (13.5 x 1018 bytes) of raw data. After processing, 903 images were combined into 2D radio images containing a total of 70 billion pixels that formed the full map of the sky. The final 903 images and supporting information amounted to 26 terabytes (26 x 1012 bytes) of data.
From concept to stellar cartographer
ASKAP was conceived in its current form in 2007 when PAFs were "little more than a concept," Dr McConnell told Lab Down Under. In the subsequent years, the observatory was established, antennas built, electronic equipment developed, and software designed.
"By 2013 we had BETA — the Boolardy Engineering Test Array. This was a six-antenna prototype of the final telescope using the first generation of the phased array feeds. It was used for about two years, including some useful and productive science," Dr McConnell said.
A second generation PAF was then developed and by 2016 full images could be made with these upgraded components. At that time, nine radio dishes were equipped with the new PAFs. Further PAFs were added until February this year and the electronics and software systems were built to manage the increased volumes of data.
"Early science observations were made with less than the full set of antennas and provided essential tests for the commissioning team, as well as producing some valuable and spectacular scientific images. Since early 2019, work has continued on electronics (debugging, addition of features) but most of the effort has gone into refining the operational methods — learning how best to calibrate and operate the telescope," Dr McConnell said.
While PAFs had been used in the past, it took a while to develop them specifically for radio astronomy which requires equipment to be extremely sensitive in order to detect these weak cosmic signals, he told Lab Down Under.
"Special measures were needed to make the radio sensors on the PAF sensitive enough for astronomy. In addition, the quantity of data is large and so the developments also waited for the speed of electronics to improve."
Muscle flexing for future discoveries
ASKAP significantly outperforms earlier all-sky surveys conducted by major world telescopes which take tens of thousands of images and can take years to complete.
The new data will allow astronomers to conduct statistical analyses of large populations of galaxies in order to obtain insights similar to the way social scientists use data from national censuses.
"This census of the Universe will be used by astronomers around the world to explore the unknown and study everything from star formation to how galaxies and their super-massive black holes evolve and interact," said Dr McConnell.
With ASKAP "flexing its full muscles", Dr McConnell said that future surveys were expected to find tens of millions of new galaxies.
With the first survey already being published in PASA, a second paper is on the way.
"It will present a carefully prepared catalogue — list of the objects seen in the RACS images. This paper will probably be published in the first half of 2021," Dr McConnell said.
Further RACS observations are planned to survey the sky at different radio wavelengths, he added, with the hope that this somewhat different view of the sky will published next year.
The images and catalogues will be made publicly available for inspection through the CSIRO Data Access Portal and will be hosted at Pawsey.
Insights from ASKAP will also be used to develop the Square Kilometre Array (SKA), an international collaboration that aims to build the world's largest radio telescopes. SKA will be located at MRO.
As well as CSIRO, scientists participating in the RACS came from University of Sydney, Western Sydney University, University of Technology Sydney, Australian National University and the University of Western Australia.
Author's note: If you enjoyed this article, you can follow Lab Down Under on Facebook and LinkedIn or support me on Patreon. I also have my own personal Twitter account where I'll be sharing my latest stories and any other items of interest. Finally, you can subscribe here to get my blogs in your inbox.
---
1 McConnell D, Hale C, Lenc E et al. The Rapid ASKAP Continuum Survey I: Design and first results. Publications of the Astronomical Society of Australia, Volume 37, 2020, e048.
Featured image: ASKAP during the day. Picture by CSIRO. Used with permission.