A wide variety of tiny aquatic animals called stygofauna have been discovered living deep in underground aquifers in the Northern Territory in what is one of the most prospective areas for shale gas in Australia.
Scientists from CSIRO and Charles Darwin University surveyed 26 groundwater bore wells across a distance of approximately 500 km in the NT's Beetaloo Sub-basin and Roper River region and found a diverse number of tiny aquatic animals like shrimp and molluscs inhabiting the watery, dark subterranean areas beneath.
The survey1 is the first of its kind to examine stygofauna in this region and was conducted to address knowledge gaps in the Final Report of the Scientific Inquiry into Hydraulic Fracturing in the Northern Territory which was released in March 2018 and aimed to explore the environmental, social and economic risks and impacts of fracking.
"Our study is the first step in the description of the biodiversity and ecological integrity of the subterranean [groundwater dependent ecosystems] of the Beetaloo Sub-basin. This baseline information will support the development of policy, management and monitoring guidelines for the extraction of shale gas within this region," the researchers write.
The Beetaloo Sub-Basin is found around 180 km southeast of Katherine and takes up an area of around 30,000 km2. According to the CSIRO's report, the region contains an estimated 178,200 petajoules of shale gas. for comparison, Australia's annual energy consumption in 2018-19 was just under 6,200 petajoules2.
An exciting find of a complex ecosystem
The new stygofauna were found in the Beetaloo region using fishing poles, handlines, nets, water pumps, and eDNA analysis in the various bore holes. The tiny animals discovered were different to those previously found in Western Australian aquifers.
The Beetaloo stygofauna community was dominated by crustaceans such as shrimps, amphipods, ostracods, copepods and syncarids. This variety means new species and genera are likely to be present in the region.
"It's incredibly exciting because some of these crustaceans are new to science – there are not many places left in the world where you can find a whole range of new animals in one location," said CDU Professor Jenny Davis.
CSIRO's Gas Industry Social and Environmental Research Alliance (GISERA) Director Dr Damian Barrett told Lab Down Under that stygofauna were found in underground aquifers, streams and flooded caves in many parts of Australia and around the world.
"They range in size from microscopic to many centimetres. The stygofauna in found in the Cambrian Limestone Aquifer in the Beetaloo Sub-basin of Northern Territory were dominated by crustacean species and mostly ranged in size between 0.3 and 10 millimetres in length, with some specimens of the shrimp Parisia unguis reaching up to 20 mm," said Dr Barrett, who is also Research Director of Energy Resources at CSIRO.
The presence of Parisia unguis, which has also been located at the Cutta Cutta caves near Katherine, NT, demonstrated a complex ecosystem in these underground aquifers, Dr Barrett added.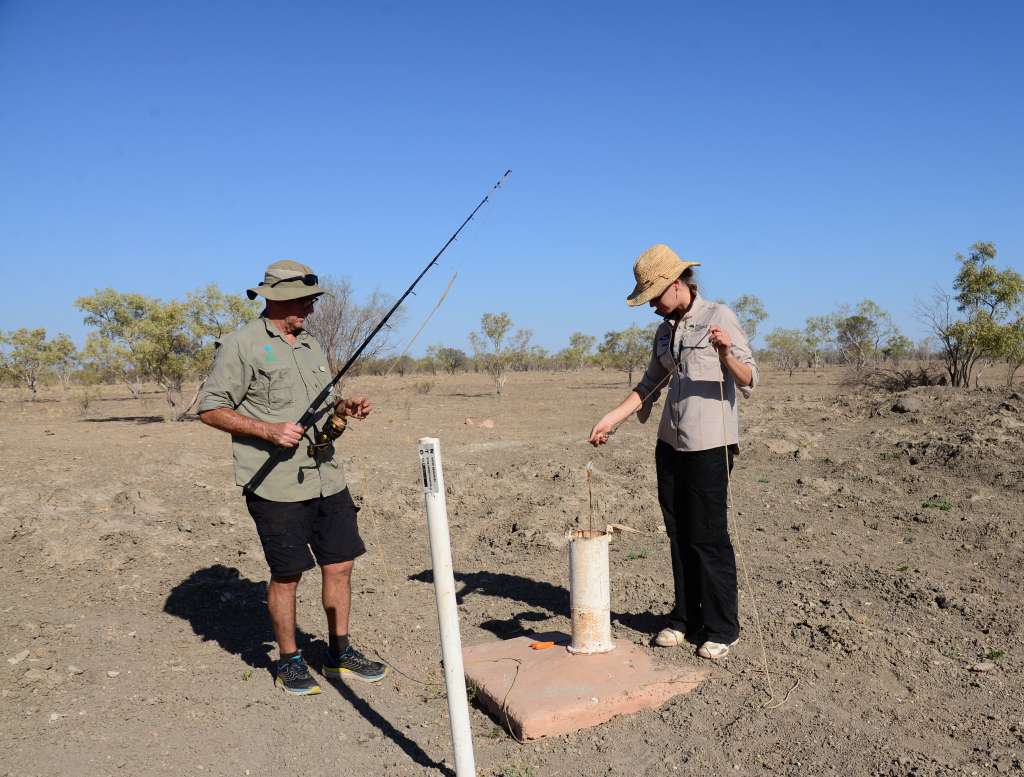 Image: CSIRO's Dr Daryl Nielsen and Charles Darwin University's Dr Stefanie Oberprieler fishing for stygofauna in central Northern Territory. Picture supplied by the CSIRO.
A need to protect these highly connected aquifers
The creatures were found in bores at widely separated sites, meaning that the Cambrian Limestone Aquifer seemed to be highly connected across the region, Dr Barrett told Lab Down Under.
"The relatively wide distribution of the shrimp, Parisia unguis, is consistent with recent CSIRO groundwater tracer studies that found that the Cambrian Limestone Aquifer is highly connected (i.e. is conducive to the movement of water, matter and organisms between different parts of the aquifer)," he said.
The animal and plant life in these underground aquifers should be protected as they are integral to the survival of the ecosystem and provide an indication of the aquatic health of the aquifers themselves — which are vitally important in countries like Australia where over 70 per cent of the continent is arid or semi-arid.
"Risk of contamination by pollutants associated with shale gas and other industries in the region must be mitigated sufficiently to prevent contaminants from entering this subterranean aquifer of high connectivity," said Dr Barrett.
The magnitude of any risk depended on a range of factors including the probability of spills; containment and rehabilitation of spill sites; degradation and adsorption of chemicals in the soil; dilution of residual chemicals during monsoon rains; and the degradation of chemicals in the aquifer itself.
"It is necessary to mitigate the risk, the magnitude of the risk is dependent on these factors, and these factors act to reduce the risk of contamination," Dr Barrett said.
A plan for further research
CSIRO scientist Dr Gavin Rees said that GISERA, which funded the pilot survey, was also undertaking further research to quantify the risks of contamination impacts on stygofauna from these types of industrial spills.
"This research takes into account migration pathways and processes, including adsorption, dilution and microbial metabolism in soils and aquifers as well as the suspected high connectivity in groundwater systems," he said.
Dr Barrett said that the report from the survey suggested a number of key areas of future research, including undertaking further sampling of stygofauna, developing standardised sampling methods, formally describing the new species discovered, creating a comprehensive DNA library, and developing assessment and monitoring protocols for onshore gas extraction.
The bores examined in the pilot survey stretched from the sub-tropical Mataranka region in the north to the semi-arid Barkly Tablelands in the south.
GISERA is part of CSIRO's Energy Resources business unit and draws on the skills of scientists and researchers from all CSIRO areas of expertise. Research focus is determined by Regional Research Advisory Committees, in which community and independent members have majority voting rights.
Author's note: If you enjoyed this article, you can follow Lab Down Under on Facebook, LinkedIn and YouTube or support me on Patreon. I also have my own personal Twitter account where I'll be sharing my latest stories and any other items of interest. Finally, you can subscribe here to get my blogs in your inbox.
---
1 Rees G, Oberprieler S, Nielsen D, Watson G, Shackleton M, Davis J. Characterisation of the stygofauna and microbial assemblages of the Beetaloo Sub-basin, Northern Territory. GISERA project number W18, December 2020.
2 Australian Energy Update 2020, Australian Energy Statistics, September 2020.
Featured image: The blind shrimp shrimp Parisia unguis is the apex predator of the Beetaloo stygofauna. Image supplied by the CSIRO. Used with permission.